Introducing the NVIDIA Tesla P100 GPU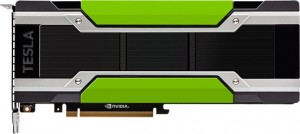 NVIDIA's new Tesla P100 GPU PCIe accelerator cards are designed to help solve the world's most important challenges.
Based on NVIDIA's latest Pascal GPU architecture, the Tesla P100 provides the throughput of more than 32 commodity CPU-based nodes and delivers up to 70 percent lower capital and operational costs.
The Tesla P100 boasts 4.7 teraflops double-precision performance, 9.3 teraflops single-precision performance, and 18.7 teraflops half-precision performance with Nvidia GPU BOOST technology.
GPU Computing with the NVIDIA Tesla

The NVIDIA® KeplerTM K80 Tesla GPUs make supercomputing available to everyone.
Based on the massively parallel CUDA architecture, this series features many "must have" HPC capabilities, including ECC memory for uncompromised accuracy and reliability, an L1/L2 cache for improved bandwidth and data sharing, larger dedicated compute memory, support for C++, and 7X double-precision performance of the previous generation.
With more than one teraflop peak double-precision performance, the K80 GPU accelerators are ideal for the most aggressive high performance computing workloads, including climate and weather modeling, CFD, CAE, computational physics, biochemistry simulations, and computational finance. The Tesla K80 series delivers performance equivalent to a CPU-only system at 1/10th the cost and 1/20th the power consumption.
Advanced Clustering's GPU clusters consist of our innovative Pinnacle Flex compute blade products and the NVIDIA Kepler K80 line of GPUs. The Flex's modular design allows for mixing and matching of GPU and CPU configurations while at the same time preserving precious rack and datacenter space.
NVIDIA, the NVIDIA logo, and are trademarks and/or registered trademarks of NVIDIA Corporation in the U.S. and other countries. Other company and product names may be trademarks of the respective companies with which they are associated. © 2016 NVIDIA Corporation. All rights reserved.
Get more info about our GPU solutions
CPU

2x up to 44 core Intel Xeon E5v4 (Broadwell)

MEMORY

24x DDR4 2400MHz DIMM sockets (Max: 1.5 TB)

STORAGE

8x 3.5" & 2x 2.5" SATA,SSD drive bays (Max: 80 TB)

ACCELERATORS

Max 2x NVIDIA Tesla accelerators

CONNECTIVITY

Onboard 2x 10Gb NICs & Optional: 40GbE, InfiniBand, OmniPath, 100GbE

DENSITY

2U rackmount chassis with redundant power
CPU

2x up to 44 core Intel Xeon E5v4 (Broadwell)

MEMORY

24x DDR4 2400MHz DIMM sockets (Max: 1.5 TB)

STORAGE

8x 2.5" SATA,SSD drive bays (Max: 12.8 TB)

ACCELERATORS

Max 2x NVIDIA Tesla accelerators

CONNECTIVITY

Onboard 2x 10Gb NICs & Optional: 40GbE, InfiniBand, OmniPath, 100GbE

DENSITY

2U rackmount chassis with redundant power
CPU

2x up to 44 core Intel Xeon E5v4 (Broadwell)

MEMORY

16x DDR4 2400MHz DIMM sockets (Max: 1 TB)

STORAGE

10x 2.5" SATA,SSD drive bays (Max: 16 TB)

ACCELERATORS

Max 4x NVIDIA Tesla accelerators

CONNECTIVITY

Onboard 2x 1Gb NICs & Optional: 10GbE, 40GbE, InfiniBand, OmniPath, 100GbE

DENSITY

2U rackmount chassis with redundant power
Tesla P100 Features and Benefits
Performance Boost for Data Center Applications