Introducing the NVIDIA Tesla P100 - the World's Most Powerful Data Center GPU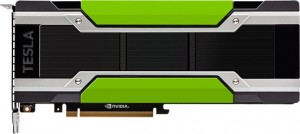 Advanced Clustering Technologies offers NVIDIA® Tesla® GPU-accelerated servers to give your data center the power to solve important scientific and big data challenges.

The NVIDIA® Tesla® P100 accelerator is the world's most powerful data center GPU ever built, designed to boost throughput and save money for HPC and hyperscale data centers. Powered by the brand new NVIDIA Pascal architecture, Tesla P100 enables a single node to replace up to half-rack of commodity CPU nodes by delivering lightning-fast performance in a broad range of HPC applications.

The Tesla P100 provides the throughput of more than 32 commodity CPU-based nodes and delivers up to 70 percent lower capital and operational costs.
The Tesla P100 boasts 4.7 teraflops double-precision performance, 9.3 teraflops single-precision performance, and 18.7 teraflops half-precision performance with Nvidia GPU BOOST technology.
GPU Computing with the NVIDIA Tesla; Educational discounts are available here

Advanced Clustering offers educational discounts on NVIDIA P100s Advanced Clustering Technologies is offering educational discounts on NVIDIA® Tesla® P100 GPU accelerators, which are the most advanced ever built for the data center.
The Tesla P100 taps into the new NVIDIA Pascal™ GPU architecture to deliver the world's fastest compute node with higher performance than hundreds of slower commodity nodes.
Higher performance with fewer, lightning-fast nodes enables data centers to dramatically increase throughput while also saving money.

Qualified educational institutions are entitled to special pricing on Tesla P100-PCIe cards that are purchased in qualified servers from Advanced Clustering, which is an NVIDIA preferred solution provider.

Quantity limits apply for the eligible products, which are:
P100-PCIe-12GB
P100-PCIe-16GB
P40-PCIe-24GB

Advanced Clustering's GPU clusters consist of our innovative Pinnacle Flex compute blade products and the Tesla P100 GPUs. Our modular design allows for mixing and matching of GPU and CPU configurations while at the same time preserving precious rack and datacenter space.

Contact us today to learn more about the educational discounts and to determine if your institution qualifies.
NVIDIA, the NVIDIA logo, and are trademarks and/or registered trademarks of NVIDIA Corporation in the U.S. and other countries. Other company and product names may be trademarks of the respective companies with which they are associated. © 2016 NVIDIA Corporation. All rights reserved.
Lower Data Center Cost by up to 50%
Tesla P100 Features and Benefits
Performance Boost for Data Center Applications