Watch our Intel Xeon Scalable Processors Webinar
Posted on August 1, 2017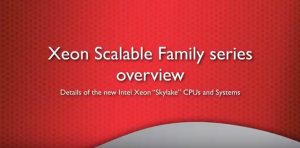 Advanced Clustering Technologies has developed a high-level webinar that offers a comprehensive look at the new Intel Xeon Scalable processor family of CPUs and systems.
Watch this 36-minute webinar to learn:
Where this next generation technology falls in the Intel Tick/Tock timeline?
How do the new processors compare to the previous generation (known as "Broadwell")?
What the new generation has to offer in terms of key features and benefits?
How do you decipher the new naming scheme (using the SKU decoder)
What are the various SKU levels and how are they different?
What is AVX and what does it mean in this line of processors?
What is the Theoretical Peak Floating Point for the next generation?
What does this mean for Linpack?
What about other applications?
Which Advanced Clustering models support the new generation?
Download our HPC Pricing Guide
Get our Guide to Grant Writing
Request a Consultation from our team of HPC and AI Experts
Would you like to speak to one of our HPC or AI experts? We are here to help you. Submit your details, and we'll be in touch shortly.