Need large-capacity storage? Check out the Pinnacle 4X3601H36
Posted on May 5, 2017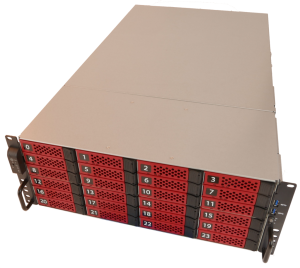 Need large-capacity storage? Our Pinnacle 4X3601H36 offers space for up to 36 hot-swap drives, 32 of which can be configured as a single RAID volume.
Ideal for use as a head node or storage node, our Pinnacle 4X3601H36 holds two of the latest Intel Xeon E5-2600 v4 processors, 512GB of 2400MHz DDR4 memory, up to 36 hot-swap hard drives and space for two 2.5″ OS drives in the back of the 4U chassis. If desired, an InfiniBand or 40GbE card can be installed in one of the six PCIe expansion slots to provide ports for a fast interconnect.
Learn more about the Pinnacle 4X3601H36, and use the Configurator to find your ideal configuration.
Download our HPC Pricing Guide
Get our Guide to Grant Writing
Request a Consultation from our team of HPC and AI Experts
Would you like to speak to one of our HPC or AI experts? We are here to help you. Submit your details, and we'll be in touch shortly.