CFD-optimized Car Earns High Marks for University of Toronto Formula Racing Team
Posted on June 25, 2019
Using designs it spent months optimizing on the ACTnowHPC cloud, the University of Toronto Formula Racing Team has been able to make big advances in the design and performance of the vehicle they are taking to competitions this year.
"Through our use of ACTnowHPC, we have expedited, optimized and improved many aspects of our program," said Jonathan Lee, Chassis Lead for the team. "This has positioned us leaps and bounds ahead with advancing our research & development, technology and manufacturing methods, as well as the car's performance."
In early 2018 the student team partnered with Advanced Clustering Technologies to make use of the company's on-demand cloud solution, ACTnowHPC. Using Simulia's Star-CCM+ to run computational fluid dynamics or CFD simulations, the team developed numerous iterations of the front wing's end plates.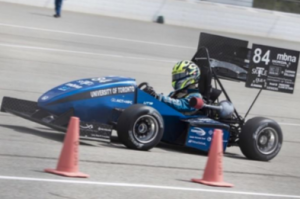 At a recent competition in Michigan, the team competed against 117 universities from 11 countries and saw performance improvements in every category, placing 47th overall, with major breakthroughs across the board. The team took second place in the business category for their planning and organization work.
Next up is further testing leading up to a racing event next month in Prague.
Read our case study about the team's use of CFD simulations in the cloud here.
Download our HPC Pricing Guide
Get our Guide to Grant Writing
Request a Consultation from our team of HPC and AI Experts
Would you like to speak to one of our HPC or AI experts? We are here to help you. Submit your details, and we'll be in touch shortly.