Advanced Clustering Publishes New Edition of Its HPC Pricing Guide
Posted on May 18, 2021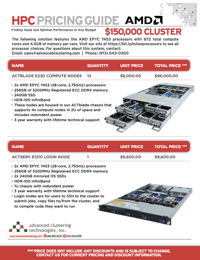 High performance computing systems integrator Advanced Clustering Technologies today announced the publication of a new edition of its HPC Pricing Guide, which provides a detailed look at the kind of HPC system that can be purchased within three typical budget ranges.
This latest edition provides a point of comparison between systems based on the latest generation of processors: AMD's EPYC (codenamed Milan) and Intel's Xeon scalable processors (codenamed Ice Lake).
The guides outline the components needed to build an HPC cluster within budgets ranging from $150,000 to $250,000 all the way up to $500,000. For each system being outlined, the pricing guide includes details about power and cooling requirements, which is an important factor when planning what system will be placed in the datacenter or co-location facility.
Advanced Clustering first published its HPC Pricing Guides in 2015 in response to a growing number of requests from customers who wanted to understand what type of HPC system they could acquire within their budget. The guides quickly became the most requested document offered on the company's website and have remained so ever since.
"The guides offer a baseline for comparison from one price point to another," said Jim Paugh, Director of Sales at Advanced Clustering. "Of course, the real answer to what you can get for your budget will come when we are able to provide a detailed quote that meets all of the customer's specific needs. We would need to factor in any special discounts or rebates that we are able to offer through our partnerships. These price guides serve as a valuable starting point when you are trying to plan your next HPC system."
A detailed summary of each system includes details about the key components, including:
compute nodes
login nodes
storage nodes
the network system
interconnects
software
rack and power infrastructure
"Whenever possible, we like to use the knowledge and experience we have gained in the last 20 years toward providing materials that help our customers when they are planning their next HPC system acquisition," said Advanced Clustering Technologies CEO Kyle Sheumaker. "Last year someone commented that our HPC Pricing Guide is the most transparency he has ever seen when it comes to understanding how these systems are priced. It is nice to be able to minimize the complexities whenever possible."
This new edition of the HPC Pricing Guide is available through Advanced Clustering's website at https://www.advancedclustering.com/request-more-information/hpc-pricing-guide/.
Download our HPC Pricing Guide
Get our Guide to Grant Writing
Request a Consultation from our team of HPC and AI Experts
Would you like to speak to one of our HPC or AI experts? We are here to help you. Submit your details, and we'll be in touch shortly.