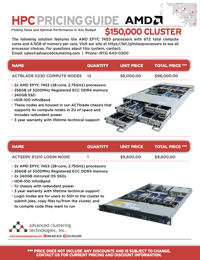 With its latest edition of the HPC Pricing Guide, Advanced Clustering provides a point of comparison between systems based on the latest generation of processors: AMD's EPYC (codenamed Milan) and Intel's Xeon scalable processors (codenamed Ice Lake).The guides outline the components needed to build an HPC cluster within budgets ranging from $175,000 to $280,000 all the way up to $530,000. For each system being outlined, the pricing guide includes details about power and cooling requirements, which is an important factor when planning what system will be placed in the datacenter or co-location facility.
Advanced Clustering first published its HPC Pricing Guides in 2015 in response to a growing number of requests from customers who wanted to understand what type of HPC system they could acquire within their budget. The guides quickly became the most requested document offered on the company's website and have remained so ever since.
A detailed summary of each system includes details about the key components, including:
• compute nodes
• login nodes
• storage nodes
• the network system
• interconnects
• software
• rack and power infrastructure
Yes! I want to download the HPC Pricing Guide.
Compare Systems Based on AMD and Intel Next Gen Processors
Request your copy of our HPC Pricing Guides.