5 Things You May Not Know about Advanced Clustering Technologies
Posted on May 25, 2017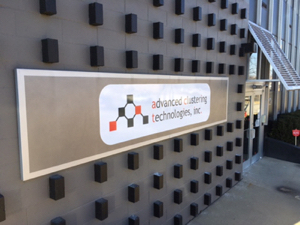 1. Advanced Clustering built a free stress-test and hardware diagnostics tool.
Breakin application is so powerful, it's now used by several major component manufacturers in their validation and factory testing procedures. No other available product pinpoints hardware issues and component failures like Breakin. Every cluster built by Advanced Clustering Technologies undergoes a minimum of 24 hours running the Breakin stress testing. Download your free copy of Breakin today. 
2. Advanced Clustering developed a software solution that helps increase cluster utilization.
eQUEUE makes it possible for HPC cluster administrators to create forms using a simple INI format for applications on the cluster. Users don't have to learn Linux or scripting. Users simply pick the application they want to run, answer a few questions, and the job is now submitted to the cluster. All with only their web browser. eQUEUE is designed to bring more users to the cluster who would ordinarily stay away due to the complexity of submitting jobs to a cluster. Learn more about eQUEUE and request a demo.

3. Advanced Clustering's cloud cluster, ACTnowHPC, is built specifically to handle HPC workloads.
ACTnowHPC was built specifically for high performance computing, which means jobs run on bare-metal hardware, not virtual machines, for best performance. No complicated setup; get online and start running workloads in minutes. Users pay for what they need when they need it. No upfront costs for new hardware. Pricing starts at only 10 cents per core hour. No fees for transferring data into and out of the cloud. Learn more and sign up for a free trial.
4. The company published a white paper about writing a successful hardware grant proposal.
Writing a grant proposal that wins funding is an art form with a lot of moving pieces. In our more than 16 years in business, Advanced Clustering has provided quotes and support to countless customers as they apply for grants. Based on interviews with some of the most prolific grant-winning customers, Advanced Clustering's white paper covers all of the bases. Download your free copy of the white paper.
5. The company's HPC Pricing Guide outlines options based on range of budgets.
In order to provide a better feel for the cost of high performance computing, Advanced Clustering compiled an HPC pricing guide that offers a side-by-side comparison of cluster costs with or without Infiniband connections. The pricing sheet is based on budgets of $25,000, $50,000, $75,000, $100,000, $150,000 and $250,000. Examine how pricing affects the number of cpus, cores, GFLOPs per node, cluster memory and more.

Bonus:
6. The company's Configurator enables users to make selections for pricing and system details.
From any product page on the Advanced Clustering site, users can configure the product to see how various factors affect price. Compare several products side-by-side. Add different types of nodes of interest (such as head node, compute node, GPU node) to a Quote Cart. When finished making your selections, submit the cart to the Advanced Clustering team and request a quote.

Learn more about Advanced Clustering Technologies
Follow on Twitter: https://twitter.com/ACT_CLUSTER
Like on Facebook: https://www.facebook.com/AdvancedClustering/
Connect on LinkedIn: https://www.linkedin.com/company/advanced-clustering-technologies
Join the newsletter: http://actlink.co/join
Visit the site: http://www.advancedclustering.com
Meet up at industry events: http://www.advancedclustering.com/company-overview/events/
About Advanced Clustering
Advanced Clustering Technologies, a privately held corporation based in Kansas City, Missouri, provides highly customized turn-key HPC clusters  — utilizing out-of-the-box technology — to companies and organizations with specialized computing needs. We develop systems for some of the most prestigious national laboratories, universities and corporations. Our technical and sales teams have more than 50 years of combined industry experience and comprehensive knowledge in the areas of cluster topologies and cluster configurations.
Download our HPC Pricing Guide
Get our Guide to Grant Writing
Request a Consultation from our team of HPC and AI Experts
Would you like to speak to one of our HPC or AI experts? We are here to help you. Submit your details, and we'll be in touch shortly.