Sharing New Resources for Intel® Xeon Phi™ Users
Posted on February 24, 2015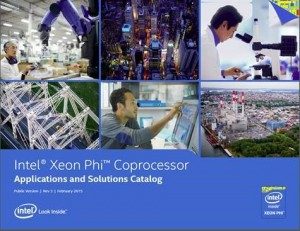 For those of you who are using the Intel® Xeon Phi™ Coprocessor, we've just received some new online resources from Intel that might prove useful to you.
The recently updated Intel® Xeon Phi™ Coprocessor Applications and Solutions Catalog includes downloads and materials regarding the latest applications that are optimized for Phi. For your convenience, the information is categorized by the various fields of study.
The catalog includes a list of available, downloadable or work-in-progress code that you can run on your Intel® Xeon Phi™ Coprocessor.
We're also sharing the Xeon Phi™ Code Recipe Page, which gives you access to the growing collection of commonly accessible or downloadable code that can be run on Intel® Xeon Phi™ Coprocessors.
Advanced Clustering is an Intel Platinum Technology Partner.
Download our HPC Pricing Guide
Get our Guide to Grant Writing
Request a Consultation from our team of HPC and AI Experts
Would you like to speak to one of our HPC or AI experts? We are here to help you. Submit your details, and we'll be in touch shortly.