Use our Customer Portal to Check Order Status
Posted on February 13, 2017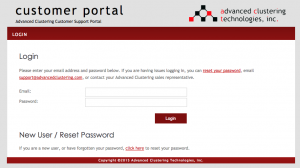 Remember that you may use the Advanced Clustering Customer Portal at portal.advancedclustering.com anytime, anywhere to review your shipped orders, purchase history and more.
If you do not already have a password, you can create one on the site. Once you've created your password, you'll have the ability to:
View your shipped orders
Review your purchase history
Create a new RMA
View your support tickets
Download our HPC Pricing Guide
Get our Guide to Grant Writing
Request a Consultation from our team of HPC and AI Experts
Would you like to speak to one of our HPC or AI experts? We are here to help you. Submit your details, and we'll be in touch shortly.