Use the Configurator to Plan Your Ideal System
Posted on May 15, 2017
You can get a head start on planning your next HPC system using our online Configurator from within Advanced Clustering's product catalog.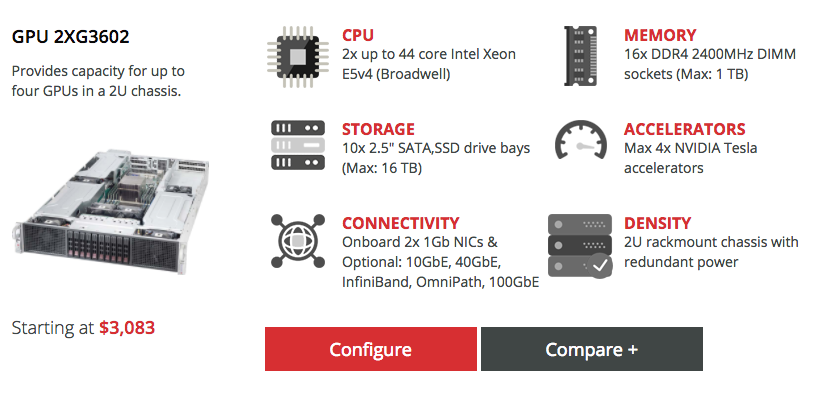 From the Product Catalog, you can click the Configure button to begin using the Configurator for any of our servers, storage solutions or workstations. You can click the Compare+ button to compare products side-by-side on the page – a very useful tool if you're comparing features and prices.
The Configurator will give you all available choices for your selection including such items as processor(s), memory, drive choices, power supply, video cards, input device and warranty. As you make selections, the Configurator will give you updated pricing information. Power estimates for each product are available as well to help you evaluate each product.
At any point during your Configurator session, you may choose to add your selection to a cart or request a quote. You can add multiple items to your cart and request one complete quote that covers all selections. Once a product is in your cart, you can make additional selections to configure an entire cluster with options that include additional nodes, Ethernet network, high-speed interconnect, parallel filesystem, racks/cabinets, power or software and services.
The online Configurator is a great starting point for you. Once you submit your quote request, a member of our team will review your selections and follow up to discuss any enhancements or additions we might recommend. We also will share any discounts that might be available for your product selections.
Download our HPC Pricing Guide
Get our Guide to Grant Writing
Request a Consultation from our team of HPC and AI Experts
Would you like to speak to one of our HPC or AI experts? We are here to help you. Submit your details, and we'll be in touch shortly.