ThinkParQ Bestows 2021 Active Bee Award on Advanced Clustering
Posted on January 27, 2022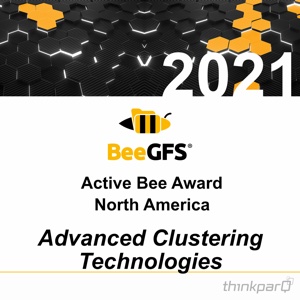 Advanced Clustering Technologies has been awarded the "Active Bee Award" for 2021 by ThinkParQ, the company that engineered the BeeGFS parallel file system.
The award is in recognition to the outstanding contributions and excellence in the support services of BeeGFS in the U.S. territory.
Advanced Clustering partnered with BeeGFS to begin offering the parallel file system in the custom, turn-key HPC systems being built for customers. That same year Advanced Clustering was awarded the Rising Bee Award as fastest growing partner for 2018 during a ceremony at the BeeGFS booth at SC18 in Dallas.
To learn more about how Advanced Clustering is integrating BeeGFS into the custom HPC clusters it builds, visit our website.
Download our HPC Pricing Guide
Get our Guide to Grant Writing
Request a Consultation from our team of HPC and AI Experts
Would you like to speak to one of our HPC or AI experts? We are here to help you. Submit your details, and we'll be in touch shortly.