RMACC Panel Highlights Best Practices for RFP Writing
Posted on August 8, 2018
Advanced Clustering joined a panel of HPC experts for a discussion called "Best practices for writing an RFP for HPC Hardware Purchases" today at the Rocky Mountain Advanced Computing Consortium symposium at the University of Colorado-Boulder.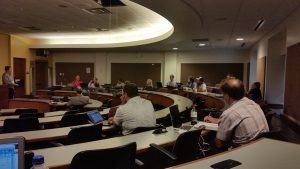 The session took place at 10:30 a.m. and was moderated by Thomas Hauser, Director of Research Computing University of Colorado – Boulder. The panel included Jonathan Anderson, Associate Director of Research Computing at the University of Colorado – Boulder; Tim Kaiser, Director of Research and High Performance Computing Colorado School of Mines; and Jim Paugh, Director of Sales at Advanced Clustering Technologies.
The panel offered best practices about how detailed the RFP document for HPC should be, including such topics as:
meeting the hard requirements (budget, power, etc.)
formulating this when you don't know what you want
allowing for innovative solutions
structuring acceptance testing and payment parameters
covering vendor questions as part of the RFP
Download our HPC Pricing Guide
Get our Guide to Grant Writing
Request a Consultation from our team of HPC and AI Experts
Would you like to speak to one of our HPC or AI experts? We are here to help you. Submit your details, and we'll be in touch shortly.