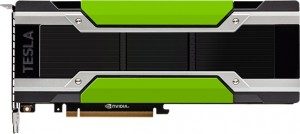 NVIDIA's Tesla P100 GPU PCIe accelerator cards are designed to help solve the world's most important challenges that have infinite compute needs in HPC and deep learning.
Based on NVIDIA's latest Pascal GPU architecture, the NVIDIA Tesla P100 provides the throughput of more than 32 commodity CPU-based nodes and delivers up to 70 percent lower capital and operational costs.
The NVIDIA Tesla P100 GPU boasts 4.7 teraflops double-precision performance, 9.3 teraflops single-precision performance, and 18.7 teraflops half-precision performance with NVIDIA GPU BOOST technology.
Key features of the NVIDIA Tesla P100 GPU include:'
Unmatched application performance for mixed-HPC workloads — Delivering 4.7 teraflops and 9.3 teraflops of double-precision and single-precision peak performance, respectively, a single Pascal-based Tesla P100 node provides the equivalent performance of more than 32 commodity CPU-only servers.
CoWoS with HBM2 for unprecedented efficiency — The Tesla P100 unifies processor and data into a single package to deliver unprecedented compute efficiency. An innovative approach to memory design — chip on wafer on substrate (CoWoS) with HBM2 — provides a 3x boost in memory bandwidth performance, or 720GB/sec, compared to the NVIDIA Maxwell™ architecture.
PageMigration Engine for simplified parallel programming — Frees developers to focus on tuning for higher performance and less on managing data movement, and allows applications to scale beyond the GPU physical memory size with support for virtual memory paging. Unified memory technology dramatically improves productivity by enabling developers to see a single memory space for the entire node.
Unmatched application support — With 410 GPU-accelerated applications, including nine of the top 10 HPC applications, the Tesla platform is the world's leading HPC computing platform.

Learn more about NVIDIA's Tesla P100 GPU and get the full specifications.