In the News: San Jose State University Brings New HPC Cluster Online
Posted on March 29, 2017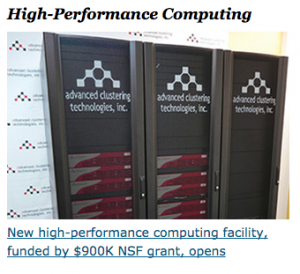 San Jose State University has just announced that its new high performance computing cluster went online this week. Funded by a $900,000 grant from the National Science Foundation, the new cluster will support an interdisciplinary team led by Sen Chiao from Meteorology, who was principal investigator of the grant proposal, and Climate Science and Ehsan Khatami from Physics and Astronomy.
The cluster will be utilized by solving problems in areas as diverse as atmospheric science, condensed matter physics, astrophysics, bioinformatics and genomics, aerospace engineering, and applied mathematics.
Advanced Clustering Technologies specializes in building high performance computing solutions that meet the needs of customers at universities, government agencies and industry. For more information about the company's HPC solutions, visit the product catalog and use the online Configurator to configure your ideal system.
Download our HPC Pricing Guide
Get our Guide to Grant Writing
Request a Consultation from our team of HPC and AI Experts
Would you like to speak to one of our HPC or AI experts? We are here to help you. Submit your details, and we'll be in touch shortly.