Latest STAR-CCM+ Edition Available for Use on ACTnowHPC
Posted on July 24, 2017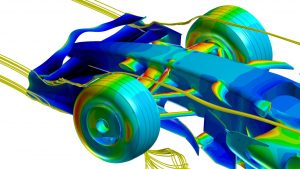 Advanced Clustering Technologies has partnered with Siemens to offer the latest release of the company's industry-leading engineering simulation software solution, STAR-CCM+®, to customers using Advanced Clustering's on demand HPC cluster in the cloud, ACTnowHPC.
STAR-CCM+ version 12.04 introduces Design Manager, which enables users to easily explore multiple design options within their CFD simulations, and STAR-Innovate software, which uses the same proven design optimization technology found in HEEDS software.
"I firmly believe that single-scenario engineering simulations are about to become a thing of the past," said Jean-Claude Ercolanelli, senior VP of product management at Siemens PLM Software. "If you know how to use STAR-CCM+ then you will instinctively know how to use Design Manager. This means that every engineer who installs STAR-CCM+ v12.04 can now conduct design exploration studies with ease to discover better designs, faster."
Design Manager enables users to set up and automatically evaluate families of designs directly within STAR-CCM+. It leverages the all-in-one platform, automated meshing, pipelined workflow and accurate physics in STAR-CCM+ to overcome the complexities that have historically prevented many from using CFD simulation in this way. Design Manager automates the systematic exploration of designs and is included with every instance ofSTAR-CCM+ version 12.04.
"STAR-CCM+ is the only multiphysics CFD offering that seamlessly enables engineers to perform design exploration studies backed by an industrial-strength optimization tool like HEEDS," added Ercolanelli. "As a result, engineers can spend less time setting up and monitoring simulations, and more time assessing the outcomes to determine what makes good designs great. This is a game-changer."
Engineers need computational fluid dynamics solutions that span a multitude of physical phenomena in order to see the big picture and solve complex industrial problems.
"We're pleased to announce that our HPC cloud now makes the latest edition of STAR-CCM+® immediately accessible to engineers who purchase the license from Siemens," said Kyle Sheumaker, President of Advanced Clustering Technologies. "With STAR-CCM+®, we're making it easier than ever for our customers to enhance workflow productivity in order to discover better designs faster."
STAR-CCM+ version 12.04 gives engineers the ability to simulate whole systems with computational fluid dynamics and not just individual components, enabling engineers to simulate the performance of their design in the context that it will actually be used.
"Giving engineers instant access to the massively parallelized STAR-CCM+® software will significantly accelerate the pace of product design cycles for our customers in the cloud," Sheumaker said. "Engineers will gain the ability to automate entire simulation workflows to drive design changes and achieve engineering objectives."
Siemens offers Power-On-Demand licensing, which provides fully flexible computing with usage counted by the hour and not by the process or core. That means extra licensing capacity is available at times of high demand or when cloud computing is chosen. Once the license is purchased, the customer can run on the ACTnowHPC cloud, which makes CFD design exploration affordable.
Sign up today for ACTnowHPC and get 500 core hours free of charge.
Download our HPC Pricing Guide
Get our Guide to Grant Writing
Request a Consultation from our team of HPC and AI Experts
Would you like to speak to one of our HPC or AI experts? We are here to help you. Submit your details, and we'll be in touch shortly.