Meet Knights Landing – the new Intel Xeon Phi series
Posted on June 21, 2016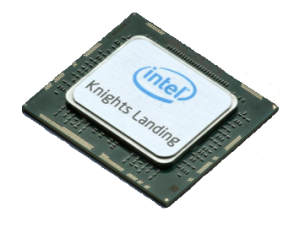 Intel officially launched Knights Landing, the latest, greatest version of the Intel® Xeon Phi™ series, during the ISC 2016 conference in Frankfurt. You're probably known about it, read about it and considered ordering it. Now it's here.
What's noteworthy?
First, there are a couple of firsts involved with this product launch. Knights Landing or KNL represents Intel's first processor to deliver the performance of an accelerator with the benefits of a standard host CPU.
The new Xeon Phi is also Intel's first bootable host processor specifically designed for highly parallel workloads, and the first to integrate both memory and fabric technologies.
Knights Landing is designed to help solve your biggest challenges faster and with greater efficiency. The KNL Intel Xeon Phi processor enables machines to rapidly learn without being explicitly programmed. It also helps drive new breakthroughs using high performance modeling and simulation, visualization and data analytics.
KNL is also more than a processor – it's also a complete server. Advanced Clustering offers this new breed of Xeon Phi as part of our HPC Compute Blocks.
Do you want to know more?
Visit our Knights Landing product details page, where you can also download our free Knights Landing overview in PDF format. As always, feel free to contact your Advanced Clustering sales representative for product and ordering details.
Download our HPC Pricing Guide
Get our Guide to Grant Writing
Request a Consultation from our team of HPC and AI Experts
Would you like to speak to one of our HPC or AI experts? We are here to help you. Submit your details, and we'll be in touch shortly.