HPC Compute Blocks: Built to Order for Intensive Workloads
Posted on July 13, 2016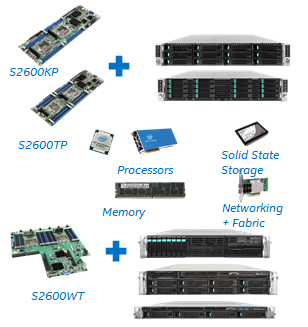 HPC Compute Blocks from Advanced Clustering Technologies are built to support parallelized workflows with easy serviceability and high availability. You get high performance and density in the smallest form-factor board optimized for memory performance. HPC Compute Blocks are built with the future in mind. Our full-featured board offers maximum product flexibility for expansion, giving you maximum compute, memory, and I/O capacity in a 1U/2U rack.
Key features of our HPC Compute Blocks include:
• 2U 4 Node form factors
• 1U and 2U Rack form factors
• Intel® Xeon® processor E5-2600 v4/v3 Product Families
• Intel® Xeon Phi® coprocessor
• Intel® True Scale Fabric, Intel® Omni-Path, and FDR InfiniBand Fabric
• Ethernet Adapter
• Solid State Drives (SSD)
• Memory Options: 4GB, 8GB, 16GB, and 32GB DDR4-2133 and 2400 MHz
• RAID and server accessories
Benefits include:
• A custom solution built to support your environment
• The latest technologies
• Full system integration, validation, compatibility, certification, and support
• Cost effective options for HPC
For whom are HPC Compute Blocks designed?
HPC Compute Blocks are ideally suited for:
• Research Labs/University
• Industry/Manufacturing
• Life Sciences
• Oil and Gas
• Economics/Financial
Download our HPC Pricing Guide
Get our Guide to Grant Writing
Request a Consultation from our team of HPC and AI Experts
Would you like to speak to one of our HPC or AI experts? We are here to help you. Submit your details, and we'll be in touch shortly.