Download the newly updated HPC Pricing Guide
Posted on June 5, 2017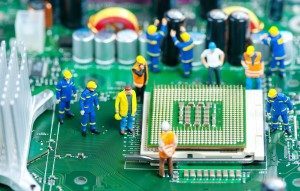 Are you wondering about the cost of high performance computing or how far your budget will stretch when it is time to invest in hardware?
Advanced Clustering has just finished updating our HPC Pricing Guide to reflect the latest costs for hardware components. Since we started offering the HPC Pricing Guide two years ago, it has become one of our most requested downloads.
The HPC pricing guide provides a side-by-side comparison of cluster costs with or without Infiniband connections that is very helpful to anyone who is writing an HPC grant proposal or weighing options before making a hardware purchase. Our pricing sheet is based on budgets of $25,000, $50,000, $75,000, $100,000, $150,000 and $250,000.
With our pricing sheet, you'll be able to examine how pricing affects the number of cpus, cores, GFLOPs per node, cluster memory and more. Our entry-level cost example assumes a budget of $25,000. Request your copy of the HPC Pricing Guide today. Then let Advanced Clustering provide you with a customized quote to meet your specific HPC needs and budget.
Advanced Clustering Technologies has been building customized, turn-key HPC clusters, servers, storage solutions and workstations for customers at universities, government agencies and corporations. View the full product catalog.  The company also offers an HPC cloud computing solution called ACTnowHPC. This on-demand cloud cluster is built specifically for HPC workloads. Get more information about ACTnowHPC.
Download our HPC Pricing Guide
Get our Guide to Grant Writing
Request a Consultation from our team of HPC and AI Experts
Would you like to speak to one of our HPC or AI experts? We are here to help you. Submit your details, and we'll be in touch shortly.