Don't Miss Your Chance to Learn About the new Rockport Switchless Network in our latest Webinar on Dec. 8
Posted on November 10, 2021
Advanced Clustering Technologies has partnered with Rockport to offer their new Rockport Switchless Network into the HPC systems we build. We invite you to join us at 1 p.m. Central on Wed., Dec. 8 for a webinar to hear about how this new direct interconnect solution addresses workload congestion.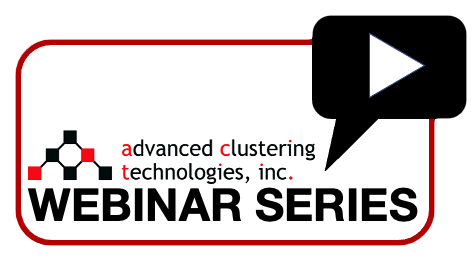 Today, every HPC workload faces the same crippling issue: Congestion in the network. Congestion can delay workload completion times for crucial scientific research, making HPC systems unpredictable and leaving high-cost cluster resources waiting for delayed data to arrive. Despite various brute-force attempts to resolve the congestion issue, the problem has persisted. Until now.
The Rockport Switchless Network is a distributed, high performance, direct interconnect solution that addresses the root cause of congestion. Modeled after the world's fastest supercomputers and architected to achieve consistently fast and predictable performance, Rockport distributes switching to the endpoint where the node becomes the network. With this innovative approach to networking, Rockport network can deliver:
• An average of 28% reduction in workload completion times
• Up to 3x decrease in end-to-end latency
• Upwards of 70% less energy, cabling, space, weight
• Unprecedented visibility and control
This webinar will provide an overview Rockport Switchless Network and discuss advantages around congestion protection, resiliency, and operational simplicity. We will also share benchmark results comparing the switchless network approach with traditional switch-based networks.
Register today to save your seat at this live webinar event.
Download our HPC Pricing Guide
Get our Guide to Grant Writing
Request a Consultation from our team of HPC and AI Experts
Would you like to speak to one of our HPC or AI experts? We are here to help you. Submit your details, and we'll be in touch shortly.