Deadline for NSF DIBBs Program is Jan. 3
Posted on October 11, 2016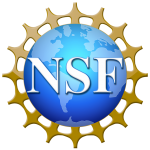 The National Science Foundation's vision for a Cyberinfrastructure Framework for 21st Century Science and Engineering (CIF21) considers an integrated, scalable, and sustainable cyberinfrastructure to be crucial for innovation in science and engineering (see www.nsf.gov/cif21).
The Data Infrastructure Building Blocks (DIBBs) program is an integral part of CIF21.
The DIBBs program (Solicitation 17-500) encourages development of robust and shared data-centric cyberinfrastructure capabilities, to accelerate interdisciplinary and collaborative research in areas of inquiry stimulated by data.
DIBBs investments enable new data-focused services, capabilities, and resources to advance scientific discoveries, collaborations, and innovations.
The investments are expected to build upon, integrate with, and contribute to existing community cyberinfrastructure, serving as evaluative resources while developments in national-scale access, policy, interoperability and sustainability continue to evolve.
Effective solutions will bring together cyberinfrastructure expertise and domain researchers, to ensure that the resulting cyberinfrastructure address researchers' data needs.
The activities should address the data challenges arising in a disciplinary or cross-disciplinary context.
(Throughout this solicitation, 'community' refers to a group of researchers interested in solving one or more linked scientific questions, while 'domains' and 'disciplines' refer to areas of
expertise or application.)
The projects should stimulate data-driven scientific discoveries and innovations, and address broad community needs, nationally and internationally.
This solicitation includes two classes of science data pilot awards:
1. Early Implementations are large "at scale" evaluations, building upon cyberinfrastructure capabilities of existing research communities or recognized community data collections, and extending those data-focused cyberinfrastructure capabilities to additional research communities and domains with broad community engagement.
2. Pilot Demonstrations address advanced cyberinfrastructure challenges across emerging research communities, building upon recognized community data collections and disciplinary research interests, to address specific challenges in science and
engineering research.
Prospective PIs should be aware that DIBBs is a multi-directorate activity, and are encouraged to submit proposals that have broad, interdisciplinary interest.
PIs are encouraged to refer to NSF core program descriptions, Dear Colleague Letters, and recently posted initiatives on directorate and divisional home pages to gain insight into the priorities for the relevant area(s) of science and engineering in which their proposals may be responsive.
It is strongly recommended that a prospective PI contact a Cognizant Program Officer in the organization(s) closest to the major disciplinary impact of the proposed work to ascertain whether the the scientific focus and budget of the proposed work are appropriate for this solicitation.
You can download a free copy of Advanced Clustering's Guide to Best Practices for NSF Grant Proposal Writing.
Learn more about the DIBBS program on the NSF website. Questions should be directed to [email protected].
Download our HPC Pricing Guide
Get our Guide to Grant Writing
Request a Consultation from our team of HPC and AI Experts
Would you like to speak to one of our HPC or AI experts? We are here to help you. Submit your details, and we'll be in touch shortly.