Our company was founded on Feb. 14, 2001 with a mission that remains unchanged 20 years on – to build cost-effective high performance computing solutions backed by customer service that is second to none. 
Through 20 years of change that are a fact of life in high performance computing, we have maintained many constants. Products that are innovative, scalable and custom-built for each customer's needs. Customers who make for careful collaborators. Team members who are skilled and singular in focus. Innovations that come as fast as the needs of this every-changing industry. 
It has been our mission – and our great pleasure – to construct solutions for our customers and our industry. Here, just to name a few:
– Breakin, the open source hardware stress test and hardware diagnostics tool that can could pinpoint hardware issues and component failures, introduced in 2008
– eQUEUE, the web-based job submission tool that enables users to run jobs on clusters from any web browser, launched in 2013
– the HPC Pricing Guide, which offers a transparent look at the cost of building a cluster based on three budget levels, first published in 2015
– ACTnowHPC, the HPC cloud service that gives users easy access to the latest HPC technologies including CPUs and interconnects, created in 2016 
– ClusterVisor, the HPC cluster manar that enables users to easily deploy your HPC cluster and manage everything from the hardware and operating system to software and networking using a single GUI. ClusterVisor debuted in 2019.
We want to thank each and every person who has joined us on this road, whether as a customer, a co-worker, a vendor, a distributor or a channel partner. We look forward to working with you into the future and whatever it may bring.
               – Your friends at Advanced Clustering Technologies 
… at the last 20 years, we see that our history as a company has been full of opportunity and successes. We highlight some of those wins in this timeline: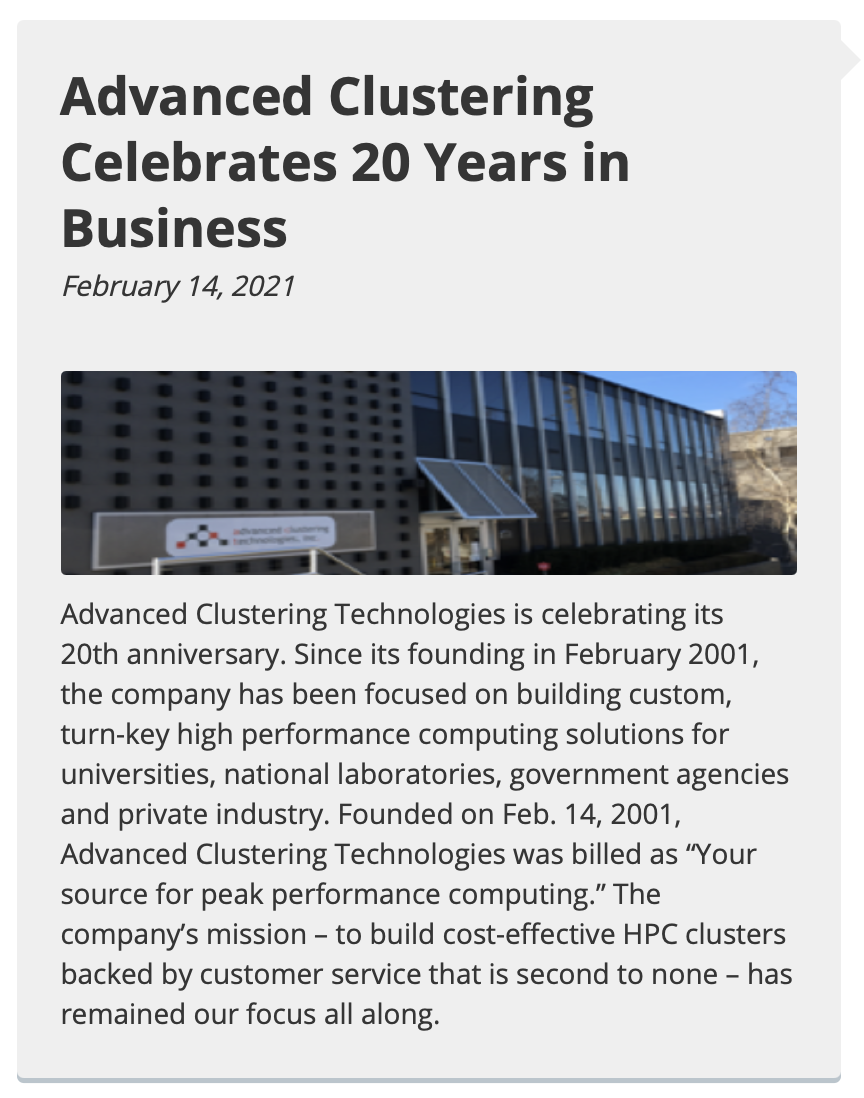 Behind the Scenes
Here is a behind the scenes look at our company in the words of a few of our team members. Listen as they describe our approach to serving customers: