Advanced Clustering Technologies has designed ClusterVisor to enable you to easily deploy your HPC cluster and manage everything from the hardware and operating system to software and networking using a single GUI. 
Our full-featured ClusterVisor tool gives you everything you need to manage and make changes to your cluster over time. It's not only simple – it's flexible. ClusterVisor is highly customizable to ensure you can manage your cluster and organize your data in a way that makes the most sense for you.
NEW AND IMPROVED with ENHANCED MONITORING TOOLS!
In November 2022, we completed a significant update to ClusterVisor that includes some enhanced features, including:
All new statistics and monitoring engine
Integration with SLURM job data
A new fully customizable UI
Request a Virtual Demo of the updated ClusterVisor 
Why ClusterVisor?
Easy to use
Easy to manage
Easy to monitor
Highly Customizable
HOW IT WORKS
ClusterVisor puts you in the driver's seat as overall manager of your HPC cluster. This powerful cluster management tool enables you to provision hardware, configure the nodes, update the operating system and analyze all of the statistics.
Your reliable cluster starts with having the tools you need to avoid trouble, monitor key functions and analyze results. Once deployed, ClusterVisor oversees everything about your cluster. Customize the dashboard and alerts to ensure you are in a position to act when issues arise. Maintain the health of your HPC cluster with ClusterVisor.
Watch our ClusterVisor Webinar for an inside look: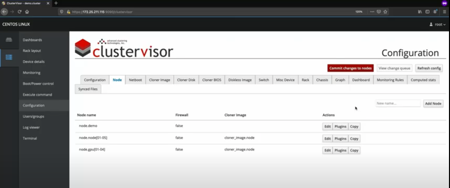 Download the webinar slidedeck presentation here.
Sign Up for your Demo of ClusterVisor Today
Advanced Clustering Technologies launched ClusterVisor at SC19 in Denver. You can use the webform on this page to request a demo. Sign up today and we will be sure to include you in a future demo or webinar about this new cluster management tool, which will be offered free of charge with all new systems built by Advanced Clustering.
Download the latest version of
of our ClusterVisor User's Manual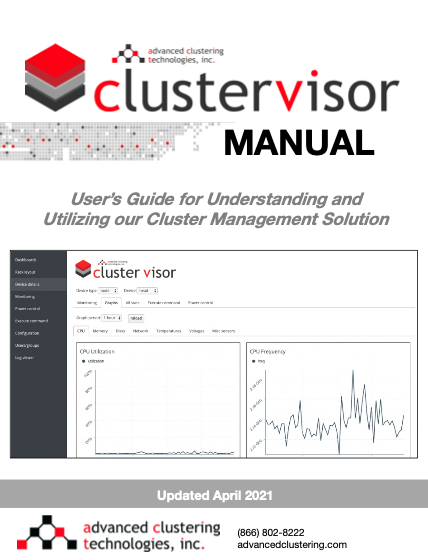 Key Features of our ClusterVisor cluster management software
Offering innovations based on feedback from our HPC customers
Here is Your Preview of ClusterVisor's Easy-to-Use GUI