AMD's EPYC Rome Posts Benchmarks on Popular HPC Applications
Posted on August 22, 2019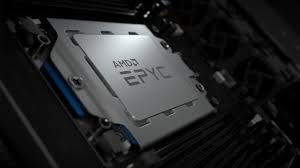 AMD is sharing a series of benchmarking results now that the new EPYC 7002 series "Rome" processors are launched and available.
Two of the applications are of particular interest to our customers, who frequently use WRF and GROMACS.
Weather Modeling with WRF
The Weather Research and Forecasting (WRF) Model application is a weather prediction system designed for both atmospheric research and operational forecasting applications.
For researchers, WRF can produce simulations based on actual atmospheric conditions (i.e., from observations and analyses) or idealized conditions. It offers operational forecasting a flexible and computationally-efficient platform, while
reflecting recent advances in physics, numerics, and data assimilation.
Here are the benchmark results:
AMD tested the single-node performance of the 1st Gen EPYC 7601 processor (32 cores) and the 2nd Gen EPYC 7542 (32 cores) and EPYC 7742 (64 cores) processors.
GROMACS Molecular Dynamics Simulation
GROMACS is designed for simulations of proteins, lipids and nucleic acids. It supports all the usual algorithms expected from a modern molecular dynamics implementation. GROMACS can be run in parallel in a multi-node.
Here are the benchmarks as reported by AMD:
AMD tested the single-node performance of two-socket systems across each of the AMD EPYC processors.
They found a very strong generational improvement of ~68% between the EPYC 7601 and the EPYC 7542
Also, the higher core count of the 2nd Gen EPYC 7742 gives GROMACS an impressive ~156% average performance boost over the 1st generation EPYC 7601.
Read more about GROMACS benchmarks on AMD EPYC 7002 series processors.
Advanced Clustering now offers HPC systems featuring the AMD EPYCTM 7002 Series processors, which bring together high core counts, large memory capacity, extreme memory bandwidth and massive I/O with the right ratios to enable exceptional HPC workload performance. Learn more about our AMD-based systems here.
Download our HPC Pricing Guide
Get our Guide to Grant Writing
Request a Consultation from our team of HPC and AI Experts
Would you like to speak to one of our HPC or AI experts? We are here to help you. Submit your details, and we'll be in touch shortly.