Advanced Clustering Technologies Now Offering AMD EPYC™ 7002 Series Processor-based Systems
Posted on August 8, 2019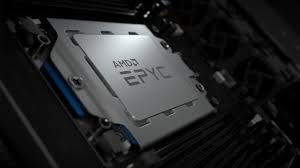 Kansas City, Mo. (Aug. 7, 2019) – Advanced Clustering Technologies, a provider of custom, turn-key high performance computing hardware solutions, announced today that it is offering AMD EPYC™ 7002 Series based systems.
"Our new series of ACTserv systems will deliver 128 PCI-e lanes and up to 64 cores per socket. These are perfect for your high-memory or I/O intensive workloads." said Kyle Sheumaker, President of Advanced Clustering. "We look forward to providing EPYC as an option for our HPC customers."
The new 2nd Gen AMD EPYC™ Processors power the most demanding workloads with breakthrough CPU performance, giving customers a new level of integration and performance for their modern datacenters.
"Driven by AMD's history of datacenter innovation, including 7nm process technology, the first x86 supplier to support PCIe Gen 4, and embedded security protection, the 2nd Gen AMD EPYC Processors set a new standard for the modern datacenter," said Scott Aylor, corporate vice president and general manager, Datacenter Solutions Group, AMD. "Together, these innovations deliver the breakthrough performance customers need."
Delivering a comprehensive, consistent feature set of I/O, memory and security features, across 8 to 64 "Zen  2" cores, the 2nd Gen AMD EPYC™ Processors deliver agility from a balanced set of features. The new processors also make the datacenter more responsive to today's workload demands and are focused to address those coming in the future.
Advanced Clustering's HPC systems have proven highly effective for higher education computing resources and in a range of commercial sectors including financial services, climate and weather research, manufacturing and automotive design.
Visit advancedclustering.com to learn more about the company's AMD EPYC 7002 Series Processor-based systems.
[1]Testing performed by AMD Engineering as of October 2018 using AMD reference system with a preproduction "Rome" engineering sample, where "Rome" scored approximately 2x higher compared to "Naples" System. Actual results with production silicon may vary. ROM-03
[1]Estimated generational increase based upon AMD internal design specifications for "Zen 2" compared to "Zen". "Zen 2" has 2X the core density of "Zen", and when multiplied by 2X peak FLOPs per core, at the same frequency, results in 4X the FLOPs in throughput. Actual results with production silicon may vary. ROM-04
Download our HPC Pricing Guide
Get our Guide to Grant Writing
Request a Consultation from our team of HPC and AI Experts
Would you like to speak to one of our HPC or AI experts? We are here to help you. Submit your details, and we'll be in touch shortly.