Advanced Clustering Renewed as Intel HPC Data Center Specialist
Posted on April 4, 2017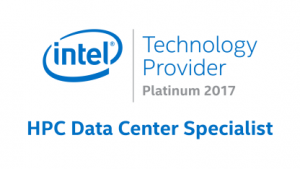 High Performance Computing solutions provider Advanced Clustering Technologies announced today that the company has been renewed as an official Intel® Technology Provider and HPC Data Center Specialist. The designation recognizes Advanced Clustering as partner adept in delivering quality HPC solutions for customers.
In order to qualify for this status, Advanced Clustering's team of HPC engineers and sales representatives completed Intel's HPC Data Center-focused training courses.
Why work with Advanced Clustering?
Choosing to work with an Intel Data Center Specialist like Advanced Clustering benefits customers in several ways, including:
 access to a partner who is up-to-date on the very latest technologies
Ability to collaborate with Intel HPC experts who know how to deliver the best configuration for your specific needs
Save thanks to Advanced Clustering's ability to offer the lowest total cost of ownership.
Download our HPC Pricing Guide
Get our Guide to Grant Writing