Accelerate Your Work with our Latest Gen Cloud Nodes on ACTnowHPC
Posted on May 30, 2023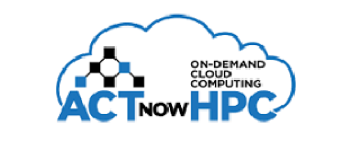 Advanced Clustering Technologies has upgraded its on demand ACTnowHPC cloud solution with nodes based on the latest generation Intel Xeon "Sapphire Rapids" processors. Powered by the Intel® Sapphire Rapids Xeon® 6430 (32-core at 2.1GHz), these 64-core nodes offer super fast NVMe drives and  eight channels of DDR5 memory offering a maximum of 4TB per server.
ACTnowHPC is easy to deploy and gives users rapid scalability on a pay-as-you-go basis. The operating systems, MPI libraries, schedulers and compilers are pre-installed and pre-configured so that users can start running jobs in minutes.
Advanced Clustering's HPC cloud provides users with the ability to overcome persistent challenges to on-campus high performance computing, including long wait times for HPC resources or a complete lack of such resources.
Contact us to learn how you can get access to these new nodes on our cloud.
Download our HPC Pricing Guide
Get our Guide to Grant Writing
Request a Consultation from our team of HPC and AI Experts
Would you like to speak to one of our HPC or AI experts? We are here to help you. Submit your details, and we'll be in touch shortly.