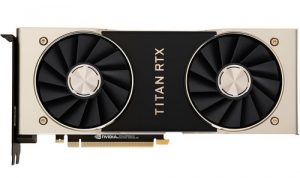 Advanced Clustering Technologies is now offering the NVIDIA® TITAN RTX™, which delivers the ultimate PC computing experience for the most demanding users in the world including AI researchers, university labs, deep learning developers and data scientists.

Powered by Turing™, the world's most advanced GPU architecture, NVIDIA TITAN RTX provides users with an unbeatable combination of
artificial intelligence
real-time ray-traced graphics
next-gen virtual reality
high-performance computing.
Advanced Clustering's workstations featuring the Titan RTX give scientists the fastest start in AI and Data Science from the convenience of your desk. Build AI models with effortless productivity, powered by optimized software for popular deep learning frameworks and RAPIDS data science libraries. 
Yes! I would like more information about the Titan RTX GPU
Educational discounts are available here

Advanced Clustering Technologies is offering educational discounts on the NVIDIA® TITAN RTX™.
The Titan RTX enables AI developers and data scientists to achieve results faster with a cost-effective desktop solution delivering revolutionary performance at your fingertips, powered by NVIDIA Turing.
Qualified educational institutions are entitled to special pricing on Titan RTX GPUs that are purchased in qualified solutions from Advanced Clustering, which is an NVIDIA preferred solution provider.  

Contact us today to learn more about the educational discounts and to determine if your institution qualifies.
NVIDIA, the NVIDIA logo, and are trademarks and/or registered trademarks of NVIDIA Corporation in the U.S. and other countries. Other company and product names may be trademarks of the respective companies with which they are associated. © 2019 NVIDIA Corporation. All rights reserved.
Comparing Titan RTX to Tesla V100
CPU

1x up to 38 core Intel Xeon (Ice Lake/Xeon W)

MEMORY

16x DDR4 3200MHz DIMM sockets (Max: 1 TB)

STORAGE

8x 3.5″SATA,SSD,NVMe drive bays (Max: 176 TB)

ACCELERATORS

Max 2x NVIDIA Quadro accelerators

CONNECTIVITY

Onboard 2x 1Gb NICs & Optional: 10GbE, 40GbE, InfiniBand, 100GbE
Note about GPU warranties: Manufacturer's warranty only; Advanced Clustering Technologies does not warranty consumer-grade GPUs.