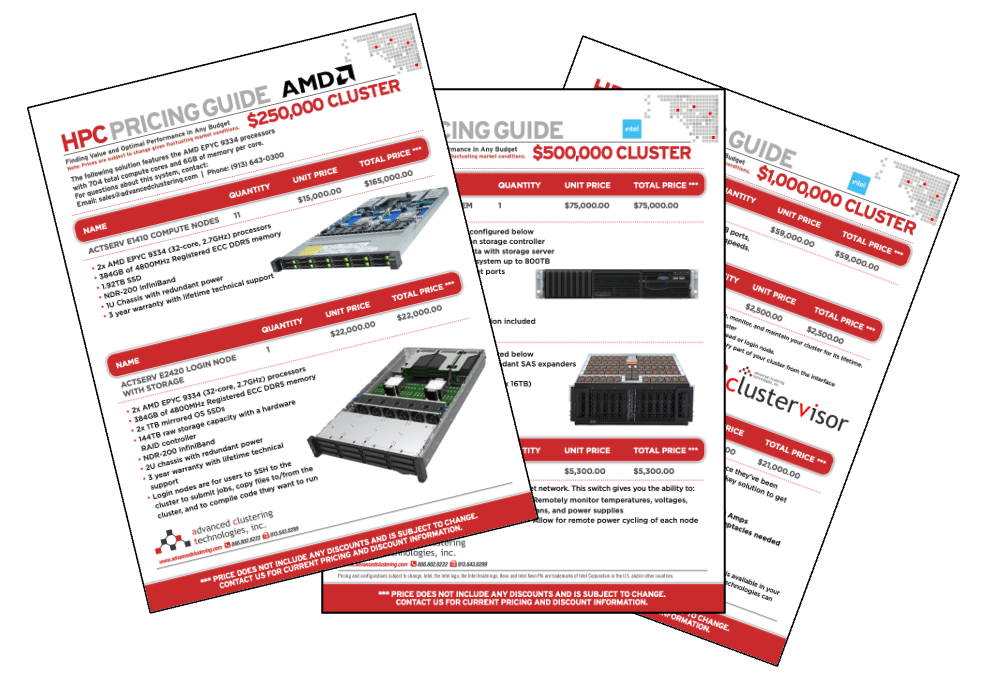 Want to know what kind of HPC cluster you can get for your money? We know that traditionally, there is not a lot of transparency in HPC pricing. That's why we created our HPC Pricing Guide, to provide you with insights into what equipment you can get for your money given a budget of $100,000, $250,000 or $500,000.
In our years of experience as providers of turn-key HPC clusters, it is a question we get asked all the time. Understandably so. If you are investing in a high performance computing solution, you want to make sure you are getting the most computing power and storage capacity for the money.
We offer two sets of price guides. The first set provides prices for high performance computing solutions that feature the latest generation Intel Xeon Scalable processors (codenamed "Sapphire Rapids"). The other set features systems that are integrated with AMD's latest EPYC processors (codenamed "Genoa"). You may use the form at right to request your download copy of our HPC Pricing Guides.
A Director of Research Computing at an Ivy League university recently commented that "In my entire career I've never seen such transparency in HPC pricing. Well played, Advanced Clustering!"
Please note that this is just a starting point. Advanced Clustering will provide you with a customized quote to meet your specific HPC needs and budget. We also encourage you to use our online Configurator to start planning your system. The Configurator includes pricing to show you how the cost changes with each decision you make while configuring your system.
Yes! I want the HPC Pricing Guide