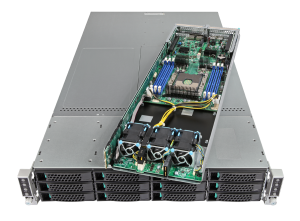 The new Knights Landing or KNL Intel® Xeon Phi™ is Intel's first processor to deliver the performance of an accelerator with the benefits of a standard host CPU. Designed to help solve your biggest challenges faster and with greater efficiency, the KNL Intel Xeon Phi processor enables machines to rapidly learn without being explicitly programmed. It also helps drive new breakthroughs using high performance modeling and simulation, visualization and data analytics.
Solve Your Biggest Challenges Ever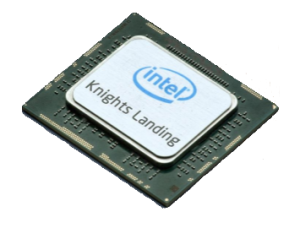 Designed from the ground up to eliminate bottlenecks, the Knights Landing Intel Xeon Phi processor is Intel's first bootable host processor specifically designed for highly parallel workloads, and the first to integrate both memory and fabric technologies.
Featuring up to 72 powerful and efficient cores with ultra-wide vector capabilities (Intel® Advanced Vector Extensions or AVX-512), the KNL Intel Xeon Phi processor raises the bar for highly parallel computing. With no dependency on the PCIe bus, the versatile processor is capable of handling a wide variety of workloads and configurations that are not supported by accelerators.
Integration of 16GB of high-bandwidth memory delivers up to 490 GB/s of sustained memory bandwidth for memory-bound workloads, and the available dual-port Intel® Omni-Path Fabric further reduces solution cost, power and space utilization.
Designed for parallel workflows; it's a whole server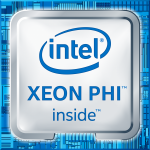 The new Knights Landing Xeon Phi Compute Blocks are specifically designed for parallelized workflows in the high performance computing (HPC) market. Contact your Advanced Clustering sales representative today to learn more. If you're new to Advanced Clustering, email us today.

Intel, the Intel logo, the Intel Inside logo and Xeon are trademarks of Intel Corporation in the U.S. and/or other countries. All other trademarks are the property of their respective owners.
Intel Xeon Phi processor options
Xeon Phi 7290
Based on Knights Landing KNL
72x 1.5GHz cores
16GB of memory
7.2GT/s memory bandwidth
3.45 teraflop double-precision
245W TDP
Xeon Phi 7250
Based on Knights Landing KNL
68x 1.4GHz cores
16GB of memory
7.2 GT/s memory bandwidth
3.05 teraflop double-precision
215W TDP
Xeon Phi 7230
Based on Knights Landing KNL
64x 1.3GHz cores
16GB of memory
7.2 GT/s memory bandwidth
2.66 teraflop double-precision
215W TDP
Xeon Phi 7210
Based on Knights Landing KNL
64x 1.3GHz cores
16GB of memory
6.4GT/s memory bandwidth
2.66 teraflop gigaflop double-precision
215W TDP
Intel Xeon Phi processor systems
CPU

1x up to 72 core Intel Xeon Phi (Knights Landing)

MEMORY

6x DDR4 2400MHz DIMM sockets (Max: 384 GB)

STORAGE

3x 3.5"SAS,SATA,SSD drive bays (Max: 30 TB)

CONNECTIVITY

Onboard 2x 1Gb NICs & Optional: 10GbE, 40GbE, InfiniBand, OmniPath, 100GbE

DENSITY

Compute Block rackmount chassis with redundant power